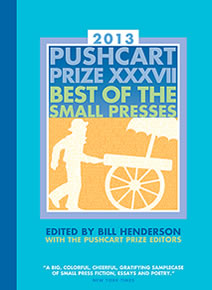 Each year editors from small presses nominate their best literary pieces from their catalogs to The Pushcart Prize. The deadline was December 1, but the long wait to hear back doesn't end until about April or May, when notifications typically go out.
"The Pushcart Prize – Best of the Small Presses series, published every year since 1976, is the most honored literary project in America. Hundreds of presses and thousands of writers of short stories, poetry and essays have been represented in the pages of our annual collections."
WGP is so very proud of all our books and authors, so it is always difficult to decide which works we will nominate. This year we have picked three books from our catalog that we feel are wonderful literary works.
Congratulations to our nominees:
Natasha Head for Nothing Left to Lose
Robert James Russell for Sea of Trees
Kellie Elmore for Magic in the Backyard
You can pick up each of these books at our WGP Bookstore or any major retailer.
Congratulations to these authors and everyone at Winter Goose Publishing, we have had an exciting year to be very proud of!
James Logan
Editor-in-Chief