Winter Goose Publishing
Winter Goose Publishing, LLC is a press founded in 2011. We are a royalty-paying trade publisher that has focused on books we feel are strong in a unique style, subject matter, and written with heart. Our first thought is never "will this be popular" or "will it sell." If we like the manuscript and it's well crafted, we feel honored to tell that story. All the other pieces fall into place, and we always feel good knowing we are putting passionate, quality work into the world.
Winter Goose came from a need in a changing industry, and the desire to have a place where authors could feel as though they are a part of the entire process. As we grow, we work diligently to keep the small-press feel and to always provide a hands-on support system. Our authors are our family.
Why Winter Goose? The name simply comes from what our founder's father has called her since she was a baby, and still to this day: Goose.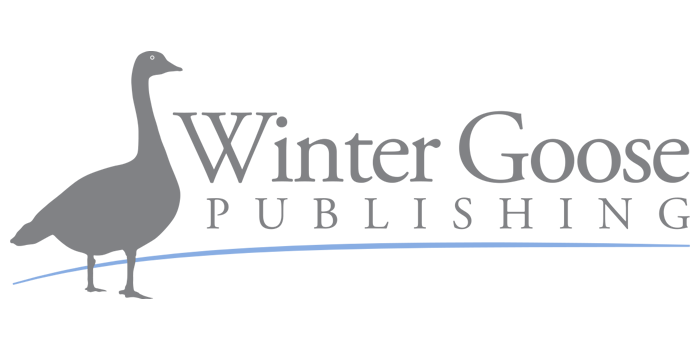 Our Values
Giving Back:
We don't take giving back lightly. This is something we will keep close and continue to grow. In all we do, this will be a primary focus and initiative.
What we are doing:
• Growing literary and artistic awareness through speaking engagements, workshops, and author events.
• Advocating and donating time and funding to social issues that are personal to our staff such as human trafficking and illiteracy.
• Winter Goose Cause Publishing: Partnering with organizations with art and book projects to increase awareness of social issues and provide necessary funding for programs.
• Donating of books and profits to a variety of organizations including libraries and non-profits.
Ethical Practices:
From our printing choices to our financial practices, it's important that we maintain an extremely high standard of business and personal ethics. We not only need to do what's right, we also want to. We are not perfect, but we will always put our best selves forward in making choices that positively affect those we work with, those we serve, and the planet we live on.
Printing:
We choose the print-on-demand (POD) model when possible primarily for environmental purposes. This model offers significant environmental advantages over traditional offset manufacturing. With offset manufacturing books often go unsold and are destroyed, usually after being shipped and handled multiple times. Wasted paper, wasted energy, greenhouse emissions, pulping, and landfill overflows can result. We use printers that have a clear chain of custody. This is important to ensure ethical use of forests, materials, and labor. Our printer has these certifications:
• The Forest Stewardship Council™ (FSC®) is a non-profit organization, promoting the environmentally appropriate, socially beneficial and economically viable management of the world's forests.
• Programme for the Endorsement of Forest Certification™ (PEFC™) is an independent, non-profit, non-governmental organization, founded in 1999, which promotes sustainability-managed forests through independent third party certification.
• The Sustainable Forestry Initiative® (SFI®) is an independent, internationally recognized non-profit organization responsible for the SFI certification standard, the world's largest single forest certification standard.
Building Strong Communities:
We love our authors, our readers, and our staff. Our purpose lies in their needs, their hopes, and their dreams. We work hard to develop a positive culture that inspires and offers opportunity for our dedicated employees and a forever-home for the writers that we partner with. We are here to support and offer the best versions of who we are as artists, entrepreneurs, writers, employees, speakers, teachers, friends, and most importantly, people. Stay for a while, find a book to curl up with, and get to know our author family and their titles.
Thank you for supporting us!