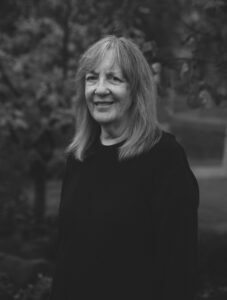 Betsy Orient Bernfeld is a librarian, lawyer, and writer in Jackson Hole, Wyoming. Originally from Tucson, Arizona, Betsy grew up hiking and backpacking in the territory and ambience of Edward Abbey's monkeywrench gang.
The humorous environmental love story The Journal of Henry David Tarantula is Betsy's first novel. It received early acclaim on the 2016 Short List of the Santa Fe Writer's Project and as a finalist in the 2017 New Rivers Many Voices Project. Recipient of the 2020 Wyoming Arts Council's Creative Writing Fellowship for Poetry, Betsy is author of two poetry collections, Eve and The Cathedral Is Burning.
Betsy lives with her husband Joe and their black lab Magnolia in a little log cabin at the base of the Grand Teton Mountains.
Look for Betsy's upcoming novel, The Journal of Henry David Tarantula.