Each Tuesday we will be compiling our author and WGP highlights. Stop by each week to see what we have all been up to! 
We have now released the three of our National Poetry Month offerings. Look for Veritas in print & eBook, Carry On Dancing and Nothing Left to Lose now at all major retailers. eBooks for all of them coming soon. Keep an eye out for the rest of our offerings over the next few weeks. You can see all of our books at Poets.org.
We revealed some great new covers this past week! Have a look at The Angels' Share and the Phases of the Moon book covers.
WGP welcomed the very talented author Richard Trevae to our author family.
Have you signed up for our newsletter? Take a a moment to fill out the form below.
Are you following our authors? You can find them all over the place! They are on Facebook, Twitter, LinkedIn, Goodreads and many more. Visit their individual author pages to connect with your favorite author.
Author News: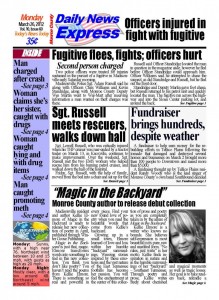 The very talented Kellie Elmore was spotted in her local newspaper announcing her upcoming release Magic in the Backyard. Her collection will be available in just a few weeks!
J.M. Richardson, author of The Twenty-Nine appeared on Not So Perfect Radio Show this past Sunday.