Dawn Leas is a Pushcart Prize nominated poet. Her work can be found in numerous publications, including Literary Mama and Southern Women's Review, and her chapbook, I Know When to Keep Quiet, was released in 2010 by Finishing Line Press. Dawn holds an MFA in Creative Writing from Wilkes University, where she is currently assistant to the president, and is a contributing editor at Poets' Quarterly and TheThePoetry.
Follow Dawn on her website, Facebook, Twitter, and Instagram.
Look for her poetry collection, Take Something When You Go, in 2016.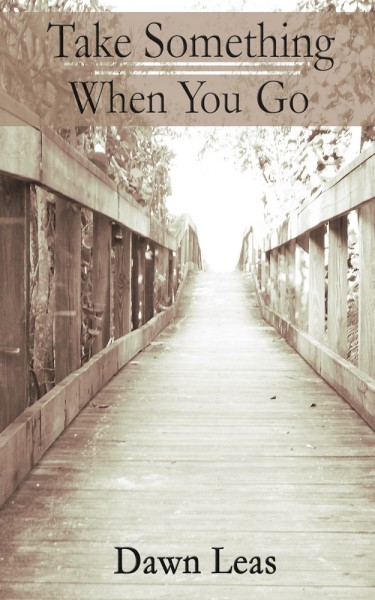 Navigating the open highways of our life decisions,
Take Something When You Go
shows us how to let go while still holding on to love, memory, family, and friends. We can learn to identify our many beginnings and endings, and come to terms with loss and renewal. And while it's always okay to acknowledge what's in the rear-view, we must constantly strive to move the odometer forward.
Endorsements:
"Dawn Leas' first book, Take Something When You Go, is the work of a mature writer, both in her life and craft. These poems explore the tenderness and tensions of a long-married couple, empty-nesters who suddenly must confront the emptiness at the center of their relationship. Leas explores with great passion and strength, with equal parts guilt and desire, the moment when we tear aside the veil to confront uncomfortable truths, and to discover how to reanimate the old life or prepare for the messy, terrifying, possibly exhilarating journey into a new one."
—Neil Shepard, author of Hominid Up and Vermont Exit Ramps II
"Take Something When You Go by Dawn Leas is powerful in what it says and what it whispers… "a wish, or a prayer. / Almost a dream. Almost real. Always moving, toward and away." Her poems reveal the "View from Canyon Lake Overview at the Top of Superstition Mountains," the eye of Hurricane Sandy, the mystery of imaginary numbers. They travel through time, through different stages of the body, and lead to powerful healings. Pay attention to the light as "The Morning Wakes Up"… "We circle Sugar Magnolia / twice with the emerging sun, / breathe in the silence." Her language transmits music, image, body presence, emotion, and spiritual awakening. This book is a joy to read."
—Diane Frank, Author of River of Earth and Sky: Poems for the Twenty-First Century