Each Tuesday we will be compiling our author and WGP highlights. Stop by each week to see what we have all been up to! 
Submissions have opened! Please read our submission guidelines for more information.
This week we revealed another wonderful book cover. Did you miss it? Check out The Secret Templar Alliance.
I hope you all enjoyed National Poetry Month! We had some wonderful releases in celebration. If you missed any, make sure you check out all of our poetry; released and upcoming.
Have you signed up for our newsletter? Take a a moment to fill out the form below.
Are you following our authors? You can find them all over the place! They are on Facebook, Twitter, LinkedIn, Goodreads and many more. Visit their individual author pages to connect with your favorite author.
Author News:
Talented author M.V. Montgomery just had a piece published in Misfits' Miscellany and has many forthcoming, including publications in: Spinozablue, The Saturnalian, and Belly Fat Magazine.
The always lovely Kellie Elmore was featured in The Poetry Cabin with a wonderful excerpt from her debut collection Magic in the Backyard.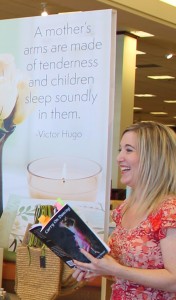 Carry On Dancing author Heather Grace Stewart had a fantastic week of readings and signings at Chapters Pointe Claire and the Chapters Kanata. Next up is her launch party at Casa Del Popolo, an artsy cafe bar on St. Laurent in downtown Montreal, Tuesday, May 8th at 8:30pm.