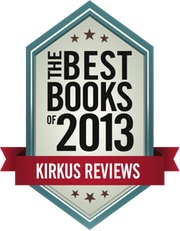 It is with great pleasure that we announce Theory of Remainders by Scott Dominic Carpenter has been named one of the Best Indie Books of 2013 by Kirkus. This is a great honor to be picked out of thousands of books from other independent publishers this year. Theory of Remainders has continued to gain notoriety and has received excellent reviews including the Midwest Connections "Pick" from the Midwest Independent Booksellers' Association.
Pick up your copy today wherever books are sold in paperback, hardback, & eBook. Booksellers can contact us directly for ordering information.
At fifty-two, psychiatrist Philip Adler is divorced, alone, and gutted of passion. When a funeral draws him back to his ex-wife's homeland of France, the trip reunites him with a trauma he has struggled to forget: the brutal death of his teenage daughter fifteen years earlier. Prodded by his former brother-in-law and stirred by the unspent embers of his marriage, he embarks on a mission to resolve lingering questions about this past, hoping to heal himself along the way. The search leads to a disturbed man who may hold more answers than anyone expects — if only Philip can hear what he's trying to say.
A suspenseful literary novel set in the lush backgrounds of Normandy, Theory of Remaindersexplores the secret ties between love, trauma, and language.